What insurance do you need for your recreational 'toys'?
Insurance for some of these vehicles are not required in all states. For example, boat insurance is not required in North Carolina. But it's a good idea to have it! Some items do require insurance, like Motorcycles. So you need to make sure you know the local laws and requirements. Ask your insurance broker for specifics. We are happy to help (contact us here).
Let's break it down for each of these items.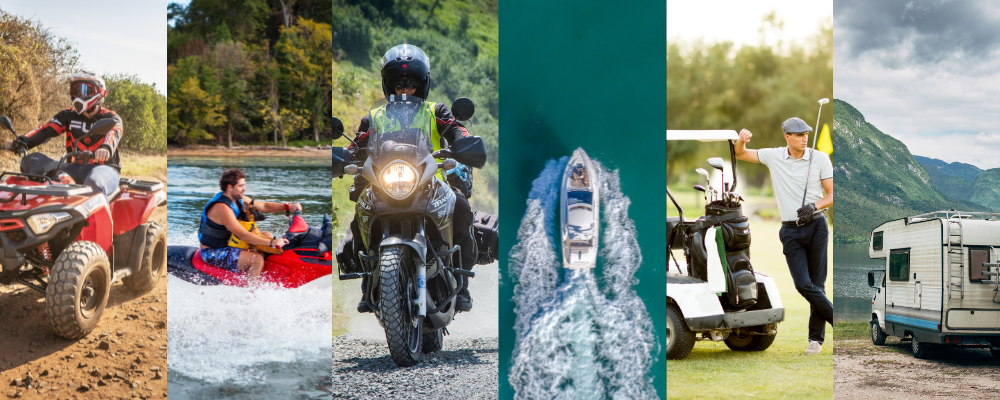 Insurance for Motorcycles
North Carolina state's mandatory liability insurance law requires anyone who drives a motor vehicle, including a motorcycle, in our state, to have liability insurance. These minimums include:
$30,000 in single-person injury coverage
$60,000 in injury coverage for two or more person
$25,000 in property damage coverage
Our team can help you decide how much motorcycle insurance is right for you and make sure you meet the requirements of the state.
There are a few exceptions to this rule. For example, mopeds and motor scooters do not need to be insured, but it's still a good idea to protect yourself! Find out more information on the North Carolina DMV Website or contact us.
Insurance for ATV's and Dirt Bikes
Your standard auto or home owners insurance may not cover you when driving your ATV's (All Terrain Vehicles), including dirt bikes. These vehicles are dangerous and are likely to cause injury or damage to property at some point so it's important to make sure you're covered! You may also be required to have basic ATV insurance to ride them in certain state parks, so double check.
Insurance for Golf Carts
Golf Carts may not be covered under your home or car insurance, but they could be covered under an umbrella policy. Golf Cart usage also has very specific laws that vary by state, county and city, and insurance coverage may be one of those requirements. Check your local laws to be sure. The good news is, coverage for these types of vehicles can be very affordable.
Insurance for Boats & Jet Skis
Boats are a big investment and a big part of life in NC, where we're filled with lakes and rivers, and have the ocean. You want to make sure your fun investment has coverage that's designed with the boat lover in mind, not with some standard coverage or add-on to your Homeowners Insurance.
We specialize in boat insurance at Brewer Insurance Group. There are just so many things that could go wrong when transporting, storing, driving and enjoying your boat. We help you navigate all the options and choose the right one. Read more about what coverage you need and how we can help on our boat insurance page.
Insurance for Recreational Vehicles (RVs)
RV Insurance can protect your camper, motor home, travel trailer or even your horse trailer. Liability coverage provides you with bodily injury and property damage coverage, medical payments, uninsured coverage, and more. Coverage requirements varies by state.
There are different types of coverage depending on how you are using the RV. For more information, check out our RV Insurance page or contact us to help you determine which coverage you need.
Make sure your summer fun isn't ruined by an accident, damage to or loss of your recreational toys that you can't financially recover from. We've got your back!
To get started, enter your details below, or call our office, and we'll walk you through the process of getting you and your awesome toy(s) covered.
Would You Like Us To Review Your Policies?